Hiya, today I have something a little different for you, a  review of a colouring journalling Bible.
This is actually a Christmas gift I gave to my mum and I suddenly thought that it might be something you would be interested to see to. I have to say it was something new to me, although I am sure lots of you would have seem them before. I assume they have developed from this colouring craze going on right now where all of sudden everyone is colouring and we crafters are not part of this so exclusive colouring club anymore lol!  Basically there are lots of these Bibles around now in all different versions, brands and styles where you have images or text images to colour within the Bible itself and usually plenty of space to make your own notes or express your own creativity. I purchased one, after some research as to which one I thought she would like, for my mum for Christmas, so here is my Journalling Colouring Bible video:-
So as alway here are some photos for you to see:-
I will put below my signature the links to the Bibles inc some of the others I liked the look of before I finally chose this one, I will also put the link to the pencils I purchased for mum. I could do a quick show and tell video on the pencils if you would like to see them, let me know in the comments. Otherwise watch out for a second video this week which is a fab Sue Wilson new die launch video plus I also got some new Creative Expressions goodies so that is in the same video too. But otherwise that is it for today, hope you enjoyed, see you again soon,
---
●▬▬▬▬▬ ●SUPPLIES● ▬▬▬▬▬●
Below are the products featured in today's video and may contain affiliate links. By clicking on them and purchasing products through my links, I receive a small commission. This is at no extra cost to you and is what helps me fund Lolli Lulu Crafts and be able to continue making videos for you. For more details go to my Policy page.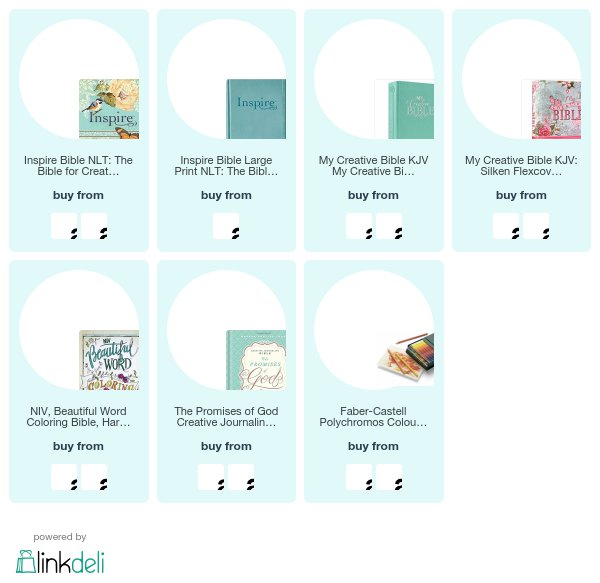 ▬▬ ● DISCLAIMER ● ▬▬▬▬▬● Affiliate links are used. For affiliate information and policy please see the Policy page. SaveSave SaveSave
SaveSaveSaveSave
SaveSave