Hiya, it is that time of year again where we take a look at my planner for the year. However 2018 is a little different to the previous years as for this year I am using a gorgeous Filofax and creating my own inserts for it.
As you know for the last few years I have used an Erin Condren Life Planner, however at the end of 2016 I was out shopping (possibly even for Christmas Presents) and I saw this beautiful Aqua coloured Patent Leather Filofax and it was instant love. I already have a lovely berry coloured Filofax (I will add the videos about this one below for you) but this as you will see is so me. I had already got my 2017 Erin Planner so I waited til this year to use it. Now I never had any intention of using the boring old Filofax inserts so I went to my favourite place to shop for things like this – Etsy. On there I found so many talented artisans creating planner inserts both digital and ready printed as per your choice. I really wanted digital as I love to be able to re-print if I make a boo boo or print more of pages like notes etc. So whilst there I came across this lovely lady from Germany who designs these stunning vintage shabby chic look planner inserts plus way more including stuff for card making and scrapbooking and if I know my Lolli-ettes I think you are going to love her work.  So here is my Filofax + How To Create Digital Planner Inserts 2018 video:-
Isn't it so nice to see the Filofax made up with something so lovely as opposed to the normal boring Filofax pages and really it was very easy. But if you are still nervous of digital you still do have the option to either purchase the pre-printed version or purchase the digital and get you local printer to print it for you.  So now here are some photos of my finished Filofax but also some photos from Manuella showing that you could make the planner up without a filofax by just using your cinch or its equivalent. Now as always dont forget that you need to click on the photo to see it in full. In the layout here the system clips them to fit on the page. So click on the first one and just then click the arrow to move on to the next or click the play button and sit back while the computer gives you a slideshow of them all:
Now as promised here are my previous Filofax videos inc the one showing my dividers  etc that I made for it:
Now all the details of the specific items I used in my planner and all the things used in the video as best I can are linked below my signature. Manuella has kindly offer you guys a 50% discount code on the 2018 planner all you need to do is add LOLLI in the discount voucher coupon box at the checkout to apply it. Make sure it does make the discount before checking out! As it says on my policy page in more detail the links may be affliated. All this means is if you use them I get a small commission at no cost to you.  This all helps me to be able to continue to make videos for you and hopefully even in increase my output too so I am very grateful if whenever possible you can use the links to get to a store even if it is not that particular item you want in the store because even if my link is for one item and you use it and then purchase something I havent even linked from that store I still get the commission. Thank you and i hope that helps a little with explaining affiliates and why they are so important to me and other bloggers 🙂
So finally just to say I realise this is a long video but I wanted to show the whole process from purchase to the finished Filofax as some of you out there may feel nervous or unsure exactly what you need to do in order to use these wonderful things on Etsy. So apologies to those of you who do already know and I am sure you can flick through to get to the bits you want to see and the rest of you I hope that it has been helpful. So thank you for watching, hugs and have a great craft day,
---
Add LOLLI to coupon box at checkout for a 50% discount on 2018 Planner!
●▬▬▬▬▬ ●SUPPLIES● ▬▬▬▬▬●
Below are the products featured in today's video and may contain affiliate links. By clicking on them and purchasing products through my links, I receive a small commission. This is at no extra cost to you and is what helps me fund Lolli Lulu Crafts and be able to continue making videos for you. For more details go to my Policy page.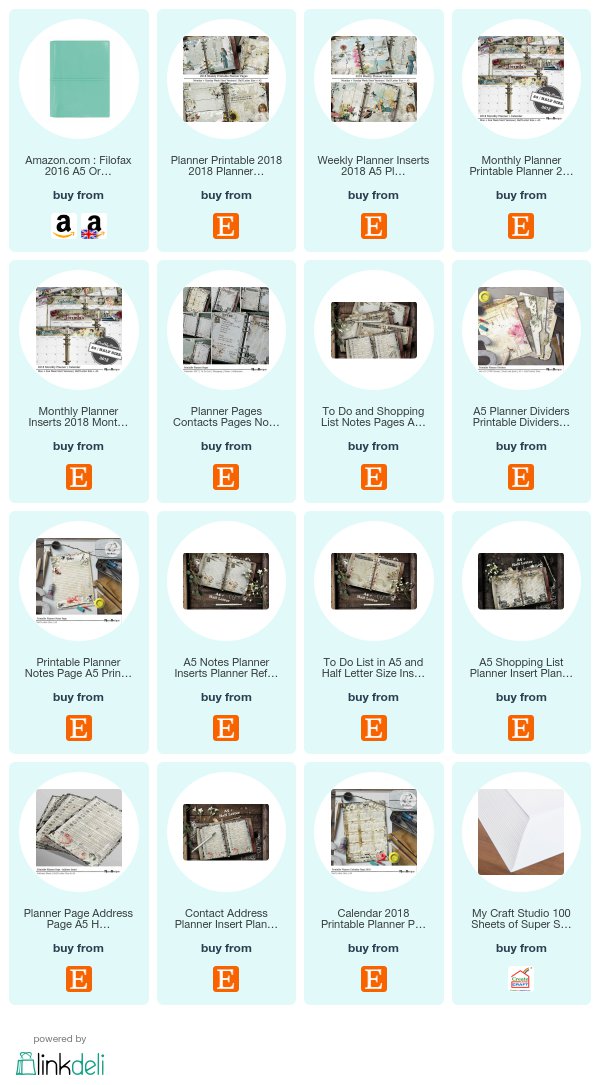 ▬▬ ● DISCLAIMER ● ▬▬▬▬▬● Affiliate links are used. For affiliate information and policy please see the Policy page.