Hi Guys, today I am acting as a Guest Blogger for Kenny K and am going to be sharing with you the latest launch of their New Clear Acrylic Stamps! Yep you heard right, Kenny K famous for their fun and funky digi stamps have now started making 'real' clear stamps for you all. So today I am showing you the new release of stamps and then using one of the sets to make a fabulous card for you – even if I do say so myself lol!
I think this about the 3rd or 4th release now so if you click on the product link below of their stamps you will be taken over to their store where you can see all the previous releases and of course this latest release. Now Kenny K kindly reached out to me to be a Guest Blogger for them (I'm even going to get a proper badge and everything lol!) and sent me the 3 sets of stamps that are this April's release. However I want to say that the opinions that I express here and in the video are entirely mine. I'm not getting paid or anything like that. I was sent the stamps to use and share with you guys with no conditions attached. Actually I think you will watch the video and see the stamps in action and it wouldn't matter what I say because you will be able to see for yourself their great quality.
So of the 3 sets I was sent, I picked the 'Sexy Rocker' set as I have always loved the artwork of these sexy ladies. To me these are fun, yet grown up images, and are fab images for the men in your life. However I wanted to show that these images can also be feminine and will work for the girls too. So I went for a feminine shabby chic look, with lots of distressing, sparkle texture paste, die work from Tattered Lace, Martha Stewart shimmer and much more. I have shown you the full colouring without speeding it up as I thought the point of this video is really showcase the stamps.
So the first thing that I did was stamp my image using my Memento Ink onto Copic Paper. I left it to dry for a little bit and went off and chose my papers. I decided to go for the gorgeous Pink Paislee Butterfly Garden Collection and I picked out a couple of sheets from there and then got some Simon Says Stamp coloured card to make into my card blank 7″ x 5″. Using the colours from the Pink Paislee papers I picked out my Copics and Promarkers that I would use to colour my image with.
I then coloured my image as you can see in my Kenny K Sexy Rocker Shabby Chic Stamped Card video
I know the video was a bit of a marathon but I just wanted to share it completely with you and not just colour in and then cut to the finished card. I figured you could always watch in 2 sections if you wanted to break it up. So if you did manage to watch it all through you will see that having coloured my image I cut, then distressed, the image down to approx 1 3/4″ x 4 1/2″
I had cut also mat and layers from the Pink Paislee paper and distressed those too. From these I took the larger dotty blue piece and used the Simon Says Stamp Stencil and the gorgeous Glitter Texture Paste to create a stunning dimensional look to that layer. Originally I was adding a birdcage that I had cut from the paper over this glitter textured piece but I decided not to cover any more of it than needed as it looked so nice.
As you will have seen in the video I then built up the mat and layers of the card – with a couple of errors in the order I layed them down in! I had by then distressed the stamped piece even further using stamps, copic opaque white paint, embossing powder etc.
I then added the stamped piece as the final mat and layer to the card by using my Pinflair to give a little more height and dimension. Next, using my Pinflair, I added the Tattered Lace fence I had die cut. I wasn't too worried if the Pinflair showed through the gaps in the fence as I thought it would be disguised by the glitter texture paste behind it. In the end it didn't matter at all as I ended up adding flowers and other embellishments to it so it completely hid the glue gel.
Finally we got to the really fun bit where I started adding all the decoration, embellishment and finishing touches to the card.
Lastly I added a couple of layers of the paper to the inside of the card, which I had distressed. Then as a final touch to the inside I die cut the La La Land heart banner and popped across the top corner.
So that was it, a big project but worth it I think. I hope you think so too and that you liked the finished card and of course I hope you like the stamps and can see how yummy they are 🙂
But for now hugs and have a great craft day,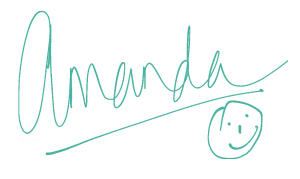 ●▬▬▬▬▬ ●SUPPLIES● ▬▬▬▬▬●
Below are the products featured in today's Video. Some products can be purchased from multiple stores so I have given each store different letter codes. Click on the letters below the picture to go to a favorite store: Simon Says Stamp (SSS), Dick Blick (DB), Cricut (C), Scrapbook.com (SB) and Amazon (AMZ)
●▬▬▬▬▬ ● DISCLAIMER ● ▬▬▬▬▬●
Affiliate links are used. For affiliate information and policy please see the Policy page.