Hiya, so today I've a video sharing with you my review of the Prismacolor Watercolour Pencils – officially known as the Prismacolor Water Soluble Pencils.
I haven't noticed these pencils before so am not sure if they are new or whether I just missed them somehow – maybe one of you guys knows the answer as to how long these have been available?
Anyway once I saw them and the reviews in store I thought I should really like to try them, and I have to say I think they are great. The pigment is rich and vibrant. The colour laid down once you add water is creamy and intense, there is so much colour and it is so easy to work it in its water colour state. The core of the pencil is thick like the original pencils and in many ways it feels like them, less waxy but still creamy and easy to lay down the colour. I found the blends easy to make and they seemed to overlay colour easily without getting muddied at all. All these things including a good look at the colours. I got the 36 set which is the complete collection of colours available. It also comes in a 24 and 12 set.
So now lets jump right into the video so you can see this all for yourself, so here is my Prismacolor Watercolour Pencils Review video:-
So there it is, aren't they gorgeous? I definitely cannot wait to get into a project with these so watch out in the future. If you are interested in what Prismacolor have to say about these then check out Prismacolors' webpage about these pencils – Prismacolour Water Soluble Pencils
Otherwise for now thank you for watching and I will see you next week with a fab project using the lovely Distress Crayons! But for now hugs and have a great craft day,
---
●▬▬▬▬▬ ●SUPPLIES● ▬▬▬▬▬●
Below are the products featured in today's video and may contain affiliate links. By clicking on them and purchasing products through my links, I receive a small commission. This is at no extra cost to you and is what helps me fund Lolli Lulu Crafts and be able to continue making videos for you. For more details go to my Policy page.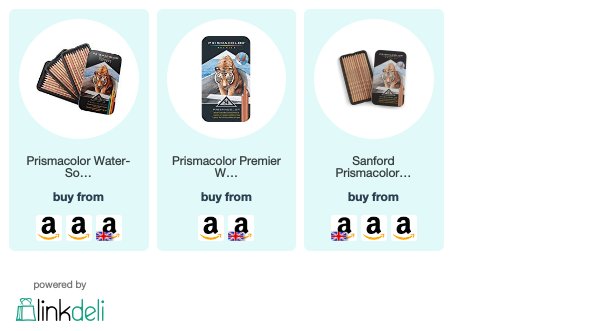 ▬▬ ● DISCLAIMER ● ▬▬▬▬▬● Affiliate links are used. For affiliate information and policy please see the Policy page.